Happy Friday friends! It's Jodi, MES Health & Wellness director here. I've been traveling for the past 2 weeks & I am sooo ready to get back to my routine! Today I'm sharing one of my favorite on-the-go snack/lunch recipes from Kendra Benson of www.ourpaleolife.com. You actually may have already seen it, because it's one of the most popular keto recipes on Pinterest!
Italian Sub Roll-Ups from Our Paleo Life
Ingredients:
4

 

Slices

 

Genoa Salami

4

 

Slices

 

Mortadella

4

 

Slices

 

Sopressata

4

 

Slices

 

Pepperoni

4

 

Slices

 

Provolone

 

omit for dairy-free option

Paleo Lime Mayo or store-bought Mayo

Shredded Lettuce

Extra toppings

 

our favorites are banana peppers, jalapeño peppers, roasted red peppers, and black olives, if desired

Avocado Oil or Olive Oil

Apple Cider Vinegar
Italian Seasoning

Toothpicks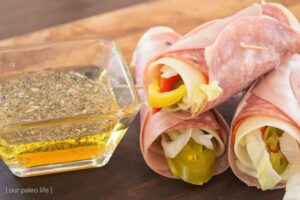 Instructions:
Layer the meat slices from largest to smallest. For the brand we use (Boar's Head), the order is:• Genoa Salami• Mortadella• Sopressata• Pepperoni
Spread a thin layer of mayo on the stack, making sure to leave space at the top of the largest piece to keep it from squishing out when you roll them up.
Add a slice of provolone on top of the mayo, about halfway from the top. Add a small handful of lettuce to the lower half and top with desired toppings (optional).
Have the toothpicks nearby and ready to grab. Starting from the bottom of the cheese, gently (but as tightly as possible roll the stack, pushing in any fillings that find their way out.
When you get to the end, secure the outer meat edges with a toothpick.
To serve, pour 2 parts oil and 1 part vinegar into a small dipping ramekin. Sprinkle some Italian seasoning on top. Dip the roll-ups in the oil/vinegar and enjoy!
Store extras in the fridge, wrapped individually in plastic wrap, for up to a week. These make for delicious and easy school lunches.
*For more paleo & keto recipes from Kendra, see www.ourpaleolife.com
**Curious about the keto diet? Watch our website as I'll be posting an informational article about keto & epilepsy.