Hello friends! Jodi Suglio, MES Health & Wellness director here. As promised in my lil Facebook teaser post earlier this week (if you don't follow us on our socials, do it!), I present "Fresh Fridays!", a weekly healthy recipe share from some of my favorite chefs, dietitians, & go-to nutrition bloggers. I will be specifically choosing recipes that are easy to prepare, are health-conscious, & friendly for many types of diets (keto, paleo, low carb, etc).
Today's recipe is for an awesome chicken salad from one of my favorite meal prep bloggers, Sam Anne. She's a Registered Nurse who shares her own weekly meal prep process on Instagram, & boy does she have some GREAT ideas! This chicken salad is going to be a summer staple for me for sure. It's delicious by itself, but would also be great with veggie sticks, on a bed of greens, or on sandwich.  With so many options, you'll never get tired of it! ENJOY!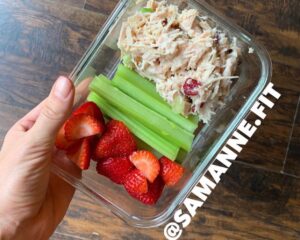 Chicken Salad from Samanne.fit
24 oz cooked chicken (shredded or cut in chunks)
8 oz plain Greek yogurt
½ cup miracle whip light
½ cup chopped celery
3 tbsp candied walnuts & dried cranberries
Mix all ingredients together, & eat immediately, or divide into separate containers & refrigerate to eat throughout the week.