Hello friends! Welcome to another edition of Fresh Fridays! Today I'm sharing a recipe that will have a healthy & delicious dinner on the table in less than 30 minutes! These Sheet Pan Fajitas come from a fellow Idahoan, Sara Wells, with www.ourbestbites.com. This gal has an awesome website & IG (sara_ourbestbites), & if you have a busy family, you'll really appreciate her quick & easy recipes (she's got 4 boys so she's got it down to a science ?).
Sheet Pan Fajitas
Ingredients:
1.5 – 2 pounds boneless, skinless chicken thighs, trimmed and sliced
1 large onion, sliced
2 large bell peppers (or 3 small/med ones), sliced
3–4 tbsp olive oil (or other oil of your choice)
2 tsp kosher or sea salt
1/2 tsp black pepper
1 tsp smoked paprika
1 1/2 tsp chili powder
1 1/2 tsp cumin
1 tsp dried oregano
1 tsp garlic powder
2–3 tsp True Lime seasoning, optional
handful of cilantro
1 lime
*optional for serving: sour cream, guacamole/avocado, tortillas, rice and beans, etc.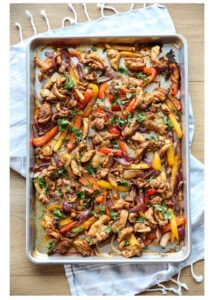 Instructions:
Preheat oven to 425 degrees.  Have a large sheet pan ready (cover with foil or parchment for easy clean-up).
Place sliced chicken, onions, and peppers in an extra large mixing bowl.  Drizzle on oil and all seasonings. Toss to coat.  (Tip: I keep Nitrile gloves in my kitchen and use them for things like this- tossing with your hands is much easier!)
Spread chicken and pepper mixture out evenly on baking sheet and place in oven.  Bake for 20-30 minutes (closer to 20 with convection) until chicken is cooked through and vegetables are tender.  If desired, place under broiler for a quick minute to brown.
Remove from oven and if desired, sprinkle cilantro over everything and give it a big squeeze of fresh lime juice (you might not need fresh lime if you used True Lime, but I say never enough lime.)
Serve with tortillas and traditional fixings, or over a bed of salad or veggies or rice and beans, etc.
**Picture & recipe from www.ourbestbites.com