Each month I feature a story from one of my readers who has been affected by epilepsy.
Learn how you can share your story.
[framed_box]
She writes: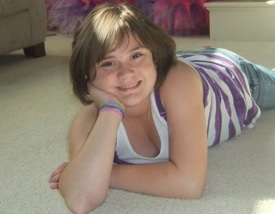 Amanda was born November 14, 1997. She had her first seizure when she was about 11 months old. Doctors thought this seizure was most likely a febrile seizure, although she didn't develop symptoms of an illness until shortly after the seizure occurred. Amanda had another seizure a few weeks later, and then another within a few months. The doctors then wanted to put her on medication and diagnosed her with epilepsy. We were reluctant to do this because we wanted answers about what was causing the seizures, but by the time she was 2 years old she was on seizure medications. Amanda had EEGs, MRIs, CT scans, blood tests, and hospital evaluations, but doctors were never able to tell us why Amanda had seizures or what caused them. She went through many seasons of change with her seizures — sometimes she was seizure free for months, sometimes she had multiple seizures in a single week. Doctors adjusted doses, added new medicines, and changed medicines completely more times than we can count. Amanda suffered from learning disabilities and other neurological disorders due to her epilepsy. Amanda suffered her last seizure on September 20, 2011; she died on September 22, 2011. She was 13 years old.
Amanda's days here with us were too few, but we are grateful for the many experiences she got to enjoy in her short life. She took dance lessons when she was a little girl and then began gymnastics. When she was in 3rd grade she was a member of a competition cheerleading team. She also enjoyed singing and participated in the chorus in elementary and middle school. In sixth grade she decided to follow her big sister's footsteps and had a great time playing softball. Her determination was so contagious and everyone would be cheering for her when she was on the field. In seventh grade Amanda decided to take up bowling and joined the local youth league. She loved it, and again her determination and spirit would win people's hearts. Amanda was creative and had many hobbies that filled her time like drawing, scrapbooking, working with beads, and cross-stitch sewing. She had been working on a set of quilt blocks that she never got to finish. Amanda loved playing games on the computer or Wii, but her favorite was Farkle around the table with anyone willing to play. She loved to go camping and spent hours fishing. Amanda loved animals and wanted to own an Alpaca someday.
We treasure all of our happy memories with Amanda, but Amanda's life was difficult and complicated. She was frustrated by her limitations and especially the lack of control we had with her seizures over the last two years of her life. Many days were difficult for every person in our family because of epilepsy. It's because of those difficult times we need to do everything we can to raise awareness about epilepsy and find ways to help those who are living with it. It's because of my little girl and that smile that touched so many lives that we go on in her honor. A Foundation is being created in Amanda's memory to raise awareness and help those living with epilepsy…we hope for Purple Peace.
[/framed_box]