At My Epilepsy Story, we are partnering with different companies to help "Bridge the Gap" for women and girls living with epilepsy. In forming partnerships, this allows us to serve women and girls diagnosed with epilepsy without seeking funding from them, the patient.  It allows the patient and their families to come to us and just breathe without the worry of being asked or emailed to send in funding to support us.  We have searched for companies that are passionate about women's health as well as their own company.  We are partnering not just for Epilepsy Awareness Month but for the long-term.  I am so excited to announce a new partnership that is blooming.  First, I LOVE this company and their products.  Second, I LOVE the person that started this company.  Her name is Emily and she is just AMAZING with all that she has done as well as the things that are ahead for her. Make sure you go to our Instagram and Petite-Plume's Instagram so you can WIN PAJAMAS!!  Please take the time to read a bit about Emily Hikade and Petite-Plume.  We are so EXCITED to see our partnership grow with Petite-Plume. and remember TOGETHER WE CAN!
1)  You were a diplomat prior to launching Petite Plume.  What countries have you lived in?
Prior to joining the foreign service, I studied and lived in France and Austria and speak French and German fluently.  As a diplomat, I've lived in Iraq, Tunisia, Haiti, Egypt, Burma, Tanzania and Uganda.  I also turned down an assignment in Paris to go to Dar es Salaam, which my family and friends vehemently protested.  I studied just outside of Paris and know how wonderful life is there, but living with three energetic little boys in an apartment in Paris?  There will be time for that when they are older and won't drive their mom crazy.   In 2014 I turned in my frequent flier miles to launch Petite Plume and the business has taken off quickly.   My husband continues to work as a diplomat and I run the business from overseas for now, thanks to a strong team of support in the U.S.  We are also hoping to be back in the U.S. soon.
Favorite assignment?
I've loved all the countries where we've lived for various reasons.  My favorite assignment was Burma (aka Myanmar).  We were there before it opened up and it was simply magical to see this world untouched by Western influence, as there aren't many left.  Once we were hiking in the mountains of Northern Burma with our young, blond son and the locals asked if we had dyed his hair that color, as they had never seen it before.  Word spread of the child with the golden hair and we were greeted like rock stars as we passed from village to village.  One village chief actually asked us if she could keep him, a serious and generous offer… which we politely declined.
2)  What led you to start Petite Plume?
My husband and I were in the same line of work and it was getting challenging for both of us to find fulfilling work as we progressed in our careers.  I was doing a great deal of traveling, and a few years ago I was on a flight to the Comoros that went out of control for the longest 30 seconds of my life.  I had been thinking about starting Petite Plume already, but this was a great motivator to reflect on life, what is most important and what I wanted to do with the rest of it.  I've always loved fashion and had been looking for classic pajamas for my three little boys and actually could not find them anywhere in the U.S.  As a parent, I also wanted to create a collection that was chemical free.  There are so many unknown toxins on the market, and no one is required to disclose them on labels.  Our sleepwear is soft, luxurious and chemical free, and we have went the extra effort to make sure no detail was overlooked.  We've also included personal touches like hand-written gift cards and customized boxes.  I'm very proud of what we've created.
3) Do you have a background in fashion?
No, I do not.  I studied international relations and business at the University of Notre Dame.  I have been lucky to find some amazingly talented people to help me navigate the ins and outs of the apparel business and thank goodness, as it can be more complicated than diplomacy!  I am still learning everyday.  I love the challenge and the people I've met along the way have been inspiring and amazing.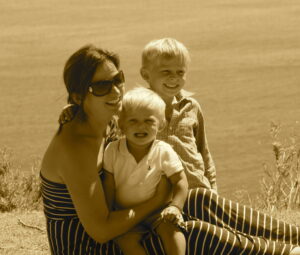 4)  Have your boys always been expats?
Yes, aside from one year living in the U.S. while my husband was in Iraq, my children have grown up overseas, with summers back in the States visiting family.  The advantage is that they have been able to travel the world, experience amazing things and they speak French fluently at the ripe ages of 3, 4 and 7.  The disadvantage is that my heart aches for them to see the colors changing in the autumn and to wake up to the first snowfall of the winter…. which is just magical.  We're also always worried for their safety, which is part of every parents' worry, but living in a Third World country can be particularly worrisome with the medical care.  My eldest son had dengue fever when we were living in Burma when he was only two years old.  It was awful and those moments make you question your decisions.  Suffice it to say, we will be heading back to the U.S. soon as we are looking forward to it.
5)  What made you decide to support My Epilepsy Story?
Brandy is just an amazing woman and I really believe in her cause and the wonderful things she is doing to provide education, support and inspiration to those living with epilepsy.  I had a very good childhood friend with epilepsy who inspired me and really opened my eyes to the challenges faced by those with it as well as the added challenges created by those who don't understand it.  I am so proud of Brandy and will support her in any way I can.