Happy Fresh Friday folks! I'm back to sharing healthy recipes this week but curious- did anyone try that workout last week? Whoo! That circuit is pretty great!
Today I'm sharing an awesome recipe from Liz Thomson's "iheartveggies" blog. Her entire concept is creating easy, plant-based recipes for our busy lives. And this recipe hits the nail on the head! First off, I love anything related to pizza. These are a great way to get your pizza fix but not completely blow your nutrition plan. And how fun would these be for an after-school-snack or for party appetizers? YUM!
Easy Zucchini Pizza Bites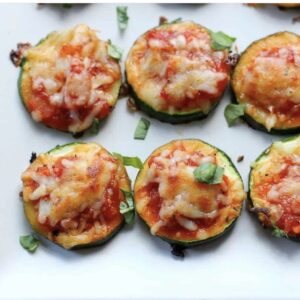 INGRDIENTS
1 large zucchini (or 2 smaller ones)
1/2 cup your favorite marinara sauce
2 oz shredded mozzarella cheese
6 basil leaves, turn into small pieces
.
INSTRUCTIONS
Preheat the oven to 375
Slice the zucchini into 1/2″ thick rounds.
Lay on a paper towel and sprinkle with salt. Let sit for a few minutes and dab with the paper towel to remove the moisture.
On a sheet of parchment paper, arrange the zucchini in a single layer.
Top with a spoonful of sauce and a pinch of cheese.
Bake for 10-12 minutes or until the cheese begins to brown.
Sprinkle with fresh basil and serve!
**Recipe & pictures are from https://iheartvegetables.com. Check out Liz's blog & IG account for more awesomely delicious recipes!