Happy Friday friends! You've heard the saying, "Breakfast is the most important meal of the day…" Well to each their own, but for me, breakfast is actually my favorite meal of the day! I could probably eat breakfast food for every meal. And today, I'm super excited to share with you one of my quick & easy go-to breakfast recipes. Baked Egg Cups are great for a breakfast on the go, are easy to eat at your desk, & fun to make! There are literally endless options for these things too, so if you have dietary restrictions or picky kiddos, its no problem!

Recipe For Deliciousness
So I will tell you, I don't have an exact recipe for these. You could probably go on Pinterest & find one, there are a hundred variations. I just kind of eye it & add in whatever I'm feeling that day, or whatever I have in the fridge. So I'm going to give you a good place to start & some of my favorite creations.
Ingredients
8-10 Eggs (can also use egg whites, egg substitute)
Milk (optional)
Meat & Veggies of choice
Cheese (optional)
Salt & Pepper (other seasoning welcome!)
Cooking Spray of choice (i usually do olive or coconut oil)
Instructions
Heat your oven to about 375 degrees. Grab a muffin tin & grease the cups- I usually just spray with olive or coconut oil spray.
Crack eggs into a bowl & mix. I also like to add a couple of splashes (maybe a 1/4 cup) of milk in with the eggs to get a little fluffier egg cup, but that's totally optional. Add salt & pepper, maybe about 1/4 to 1/2 teaspoon of each depending on your taste, & mix until well combined.
Next, chop up your veggies & meat of choice. Tip: to save time, I often get the frozen bag of chopped peppers & onions & just sprinkle these into the muffin tin. No thawing necessary! I also like to use precooked links of turkey kielbasa or turkey bacon, which I just chop into small pieces & add into the tin with veggies. Less prep work the better!
Pour your egg "batter" evenly into the muffin tins (don't over-fill, they'll puff up!) & put into the oven for about 25-30min depending on your oven. They should be solid & slightly brown on top when they're finished.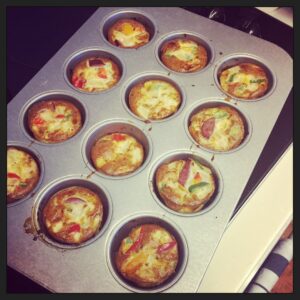 Variations
Onions & peppers, ground sausage, shredded cheddar cheese, salt & pepper.
Onions & peppers, chopped salami, shredded mozzarella, Italian seasoning
Bacon bits & shredded cheddar
Chopped broccoli & shredded cheddar, salt & pepper
Check out more variations on Pinterest, or just search "baked egg cups" on google!  🙂  Enjoy!