Hello friends & Happy Friday! Can you believe we're well into AUGUST already? Where has this year gone? I am starting to see more & more of my friends posting their "final vacation of the summer" pics. Shoot, even seeing kiddos back to school pictures too! Is this giving anyone else the end of summer blues??? I know some of you are hardcore wishing for fall & pumpkin spice lattes, but I'm trying to savor sunshine, lake trips, paddle boarding, snocones…. I could go on & on.
Summer = Cookouts
One of my favorite ways to cook in the summer is on the grill. Its so easy! And gives everything that delicious smoky summer cookout flavor. What's the first thing you think of when I say summer cookout??? I think burgers!
Today I wanted to share this great burger recipe from Julia Larish, a nutritionist & gym-owner that posts some awesome recipes, meal planning & prepping, exercise & nutrition information on her instagram account, deadredkitchen. Today's recipe is her Jalapeño Cheese Stuffed Burgers (yum!).
Jalapeño Cheese Stuffed Burgers
Ingredients: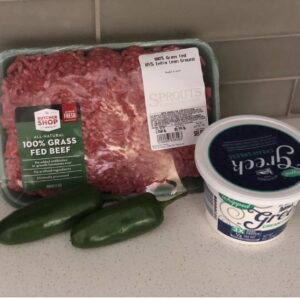 1.5 lbs ground beef (can substitute chicken or turkey)
4 oz cream cheese
2 jalapeños
Optional condiments: bacon, tomatoes, romaine lettuce
Directions: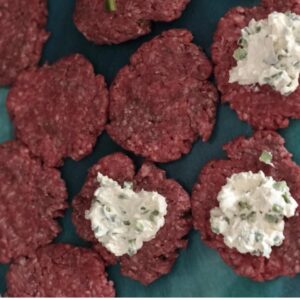 1- dice jalapeño (remove seeds for mild spice) and mix with cream cheese
2- divide ground beef into 2 or 3 oz patties (these will be put together to make one large patty, so measure according to your template). Spoon 1 oz of cream cheese mixture on top of one patty, then place another patty on top and seal the edges.
3- grill for 4-5 min each side. Serve with desired toppings and condiments. (You can use a bun, I used a romaine lettuce wrap).
Enjoy!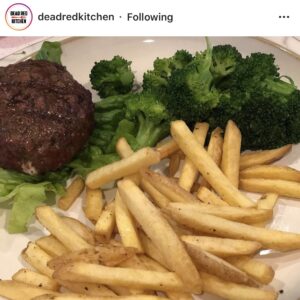 *Recipe & all pics are from Julia Larish at DeadRedKitchen.
**For more recipes & healthy cooking ideas from Julia, check out her website, takecontrol0719.wodifyrise.com.